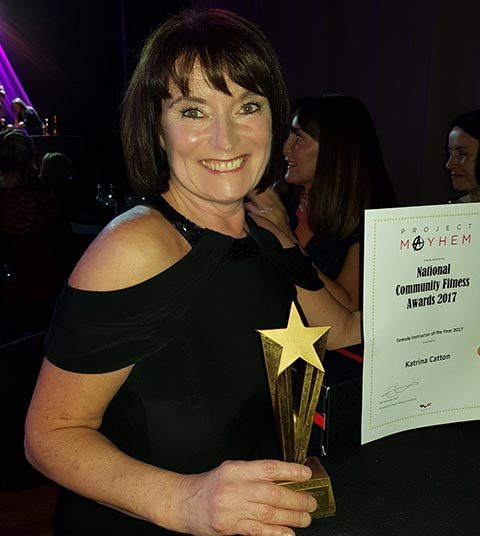 Katrina Catton
OWNER OF FITNESS VIBE
Female Community Instructor of the Year 2017
NATIONAL COMMUNITY FITNESS AWARDS 2017
I was thrilled to win this industry award contested by around 100 instructors nationwide, hosted by the fitness event company Project Mayhem. To be nominated by some of my class members was an honour, and I was delighted to be shortlisted for the final.
I was lucky enough that a group of my class members wanted to accompany me to the finals in Newcastle. After a brilliant day of fitness at Project Fit, we enjoyed a wonderful evening at the Gala Awards Ceremony. It was here I was announced the winner of the award!
What a brilliant way to round off such a memorable and fabulous weekend, with lots of laughs and a little too much prosecco!
"I have spent most of my working life helping people to reach their fitness goals, that's why winning this award meant the world to me."
Katrina Catton on winning Female Community fitness Award
At Fitness Vibe you can expect a warm and friendly welcome whatever your ability.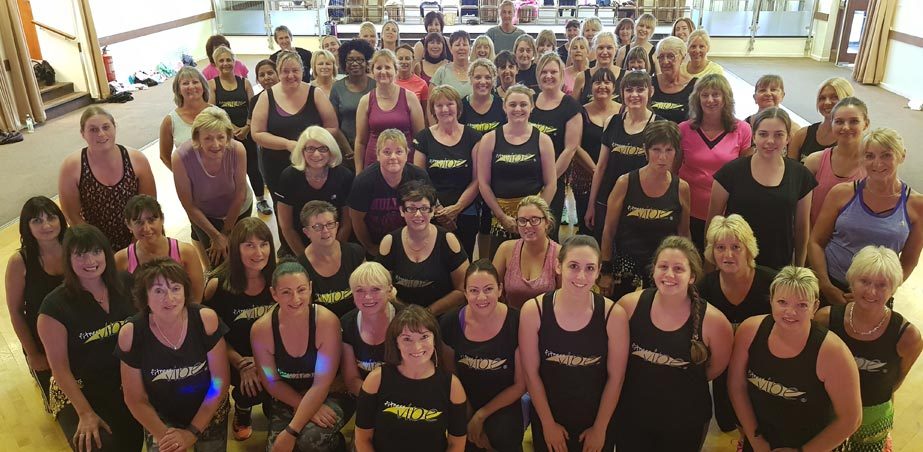 Here at Fitness Vibe the aim is that you have fun whilst getting fit in a welcoming, encouraging, high energy environment that leaves you feeling great. The classes are easy to follow, suitable for all ages and levels of fitness and those new to exercise are most welcome. You work at your own pace towards your own goals.
Class members benefit from a community spirit and there are regular social events and themed fitness classes which give everyone an experience beyond simply an exercise class.
Previous Fitness Vibe events
There are numerous social events and fitness theme nights throughout the year – it's a whole social experience.
What are you waiting for?
Contact Katrina on 07910 797527 or 01482 355594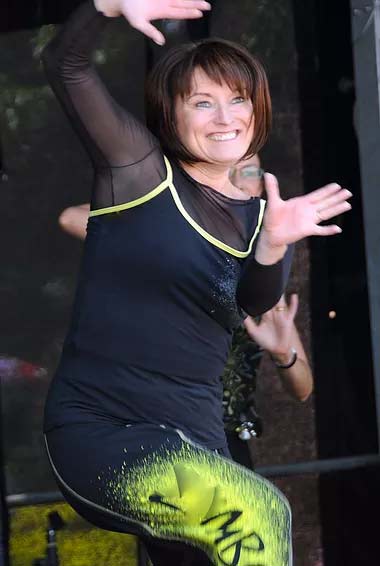 34 Years in dance and fitness
I've enjoyed 34 years in the industry following my passion for dancing and try to live by the mantra of 'fitness, fun and friendship'.
I'm a proud Hull lass and my dancing journey began with my first choreographed steps at 6 years old. I must have had a flair for community inclusion even at that young age as I regularly staged dance shows in the family garage adapted with carpets, mirrors and even a ballet bar. Local children flocked to watch the performances and the finale featuring 'Spot' our family dog!
I am classically trained under the Royal Academy of Dance syllabus and as a young dancer, I traveled throughout the UK to compete in major dance competitions. My aspirations took me overseas and I danced professionally in Italy.
Returning to the UK in 1983, I saw an opportunity to combine my love of choreography with public participation, and was among the first fitness instructors in East Yorkshire to offer community classes, qualifying with the KFA and later Northern Fitness. This marked the start of 'Fitness Vibe', my own brand of community fitness and well-being with more than 500 active members (many having joined at the very first classes). Ten class members have themselves subsequently trained to become qualified fitness instructors.
The physical and health benefits provided by Fitness Vibe have been supported by my work with the NHS and local secondary schools and I'm proud of my Fitness Vibe display team who are regularly asked to perform at community events.
I'm a fully qualified fitness instructor and dance teacher IDTA and licensed for Zumba and Fitsteps. I am always interested in new programmes suitable to my membership.